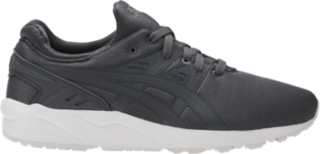 Image rights belong to Asics Tiger. All opinions are my own.
https://www.asicstiger.com/gb/en-gb/gel-kayano-trainer-evo/p/H707N-9797.html?
I am a fan of the general Asics Gel Kayano trainer, as it combines great general shoe support with overal comfort. The difference here with the Trainer Evo is the upper part of the shoe. Instead of the durable and reasonabley weather proof exterior, with the Evo we get a very thin material and light upper part of the shoe.
This means, if for example, it is cold and windy, or wet, you get no protection from the elements with this shoe. This could apply to going for walk or going for a run. If you are going for a run in good weather, then these are fine. If you are just doing minimal walking outside in different weather, then they are fine also. The shoe's lower support system is still the same as the regular Gel Kayano trainer, so it works well in that respect for running or walking.
But for me, they fall short as being not ideal for running or walking. I will use them for running. But it would be better to either go for the more durable full Asics Gel Kayano trainer, or the Gel Lyte models for everyday walking. The Gel Kayano trainer, which you can get on amazon, by searching Gel Kayano trainer, or from Asics directly with variables such as the X Mita or Naked X. The Gel Lyte shoe is fine for everyday walking, but I wouldn't use it for running.
Rating: 3/5