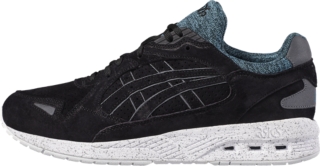 Image source: Asicstiger.com
Shoe purchased from Asics Outlet
https://outlet.asics.com/gb/en-gb/
I have worn Asics Gel Kayano trainers for quite a few years now. I was looking to try a different model, but still something which I knew would be comfortable and have good support.
The GT Cool Express was originally released in 1992, one year before the Gel Kayano. I have found this shoe to be very comfortable, having used it for much walking on regular city concrete paths the last few weeks. Even with one incident of getting soaked in the rain, they faired very well as the water did not seep into the inside of the shoe.
I have not used them for running, as I have a different pair of Gel Kayano shoes which I use exclusively for running. But, compared with other Gel models of the early 90s era such as the Saga, I feel this is better than all of those other Asics Gel shoes. It is great for everyday walking, going to work, cycling, or weekend use. The way they are made with good quality materials also means you would be comfortable using them in both summer and winter.
I would say that because of the way that the Gel Kayano is constructed, they are superior in terms of running support . But I don't think this is much of a factor if just using them for walking, as I have found the GT still has better support than the other Gel Saga models. This would only really matter when it comes to running. I would choose the Gel Kayano if you were looking for a shoe that can do both running and walking. But as an everyday flexible walking shoe, the GT Cool-Express is excellent.
Rating: 5/5